We Manufacture ASME Code Closure Assemblies (Manways) in sizes 4" to 30".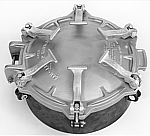 Hinged Closures
Swing Bolt
Camlock Closures
Access Hatches
Manway and Handhole Assemblies
"WEST COAST" was established in 1963 to set a higher standard of manway manufacturing. West Coast has been fabricating high quality manway's and pressure access hatches for both "Pressure" and "Pressureless" applications. Manway's are offered in many sizes ranging from 4" to 30". With numerous material configurations.
Our manway's are designed for many applications including. Dry bulk haulers, chemical and gas haulers, steel and stainless processing tanks and vessels, waste and water treatment facilities, ethanol storage tanks. And many other industries.
Our manway's are manufactured with cast lid's for unmatched strength and reliability. Also allowing us to cast our lid's in many different material's and grades. LCB steel, 304-L/304 -ss, 316-L/316-ss. Other materials available upon request. We also offer a variety of different gasket material's. Neoprene, EPDM, Viton, Silicon, and Teflon envelope gaskets.. other material's available upon request..
West Coast offer's clean-line manway's for lower pressure applications ( info available upon request) ( finish options also available upon request of clean-line manway's.
Another benefit of having our lid's cast is, allowing us to build special lids for our customers with gauges, sight glasses etc... Combination lids are also available to allow our customer's to have to access points. One for viewing and the other for internal access and cleaning.
To meet the higher pressure ratings being required for some installations, West Coast Engineered Products has developed a new line of manway units with a nominal pressure rating of 250 psi @ 500 degrees (F). Currently available, is a 20" manway with 8 swing bolts, a ½" thick weld collar ( of any required length), sealed with an "o" ring gasket. This 20" manway can be rated as high as 300 psi working pressure if the application requires.
West Coast also offers its specialty manway's which includes our swing-lid version. It allows you to open the lid horizontally instead of vertical, for tight access applications. Available in different material's, height's and sizes..
Under Pressure? We'll help you keep the lid on!